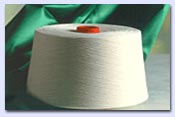 Our 100% pure cotton yarns are ring spun or open ended yarns for high premium fabrics having an inbuilt auto-cleaning system. These are soft twisted yarns with transfer tails from counts NE 10 to NE 100 in combed and carded variety suitable for knitting as well as weaving. These are available in single ply, double ply and multifolds. We also offer gassed and mercirised yarns for weaving, knitting and sewing threads.

The yarns we offer are for weavers, knitters and all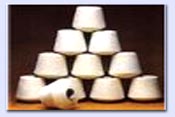 other fiber crafts. Coming from the best spinning mills in the cotton belt of India and spun from the best quality long staple cotton, garments produced from our yarns are sold at the most exclusive shopping malls and chain stores. We offer yarn produced is latest state of art manufacturing units with Siro Cleaners and Vision Shield attachments making our yarns virtually contamination free.

For specific uses and requirements, we also offer yarns spun with cotton imported from USA, Egypt, West Africa and Australia.